Here at Woolly-Wits we've often gone to the
Webs
catalog for a 'which sweater is most flattering?' post. Today, I am turning to
Knit Picks
for inspiration. Their 2015 Fair Isle Pattern Collection caught my eye, and I thought the diverse styles would make for an insightful post. After all, Fair Isle patterning is all about the horizontal stripe. My major issue with the Knit Picks photos is that they sweaters are worn by a model, rather than the more normal human-type models often used by Webs. A disappointment, but I hope the lessons carry over.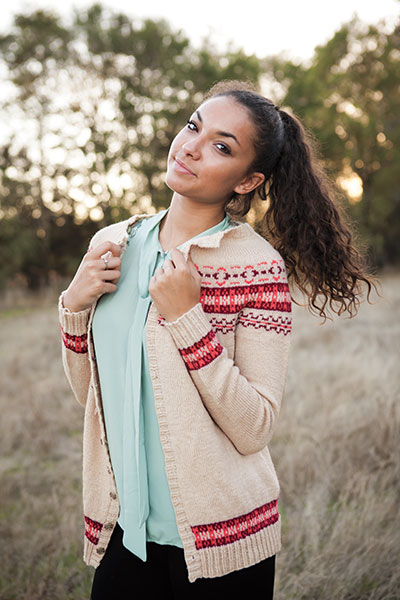 Beatitude Cardigan by Katy Banks
Beatitude
is a very classic and pretty cardigan. The varying tones of red stand out strongly from the main cream color. However, this design is all about horizontal lines. Now you know that I feel pretty strongly that you should only wear horizontal stripes where you want to look wider, and I, personally, don't need to look wider anywhere. But, I have trained myself to remember that some body types other than my own do benefit from the balance that a horizontal can bring to their figure. Bodies that are bottom heavy (the majority of American women) are brought into balance with a strong horizontal at the shoulder. And, bodies with broad shoulders and slim hips (commonly known as inverse triangles), can benefit from a bold hip band.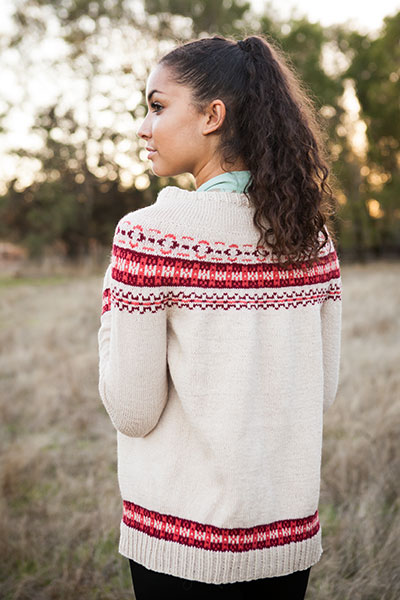 But, these body types are mutually exclusive, while this sweater combines boldness in both places. A more pear-type knitter would look lovely in this cardigan without the band at the hem. For the broader-on-top type, there would be more adjustment. Beef up the patterning on the lower body by adding more bands, while eliminating all but the least solid of the upper stripes.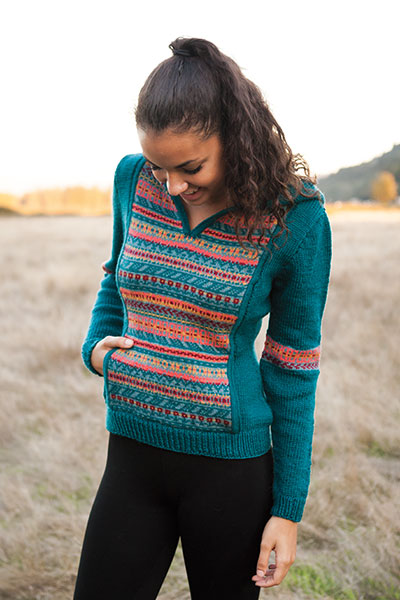 Flower Medley Hoodie by Daniela Nii
The
Flower Medley Hoodie
is very non-traditional Fair Isle. It has panels of color patterning at the center front and back, which makes me wonder how this was constructed. The Fair Isle panels could have been knit in a tube and steeked, or they could have been knit back and forth. Unfortunately, the pattern description on both Knit Picks and Ravelry give no insight into the construction. Grrrr . . . But, we are here to talk about style, and it is not bad. With so much patterning, the panels don't read so horizontal, and the strips of darker color at the sides are visually slimming. The horizontal bands at the elbow do bring focus to the waist, so I would omit those if your waist is not an area to highlight. The kangaroo pouch does add bulk at the abdomen, so you might want to leave it off if you have a bit of a tummy. Conceptually, this is a great modern sweater.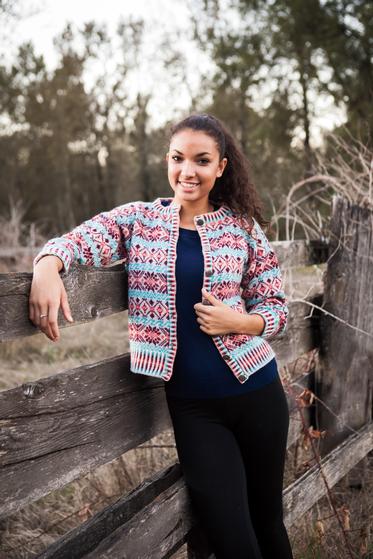 Shetland Rose by Geoffrey Hunnicutt
On the other hand, the
Shetland Rose Cardigan
is quite traditional. The colors are a more modern combination, but the strongly horizontal patterning keeps it on the classic side. The horizontals also make this hard to wear for anyone but the slender. Shetland Rose also has my least favorite armhole, the drop shoulder. This choice makes sense for a steeked Fair Isle design, but it adds a lot of bulk. Look at the deep folds between her bust and upper arm. Not a slimming look. It looks even worse in the catalog photo where the cardigan is buttoned closed, but that photo does not appear on-line, either at Knit Picks or Ravelry. That photo also better reveals that the button bands were knit too loosely and gape unattractively, but that's an easy fix for any knitter experienced enough to complete this sweater.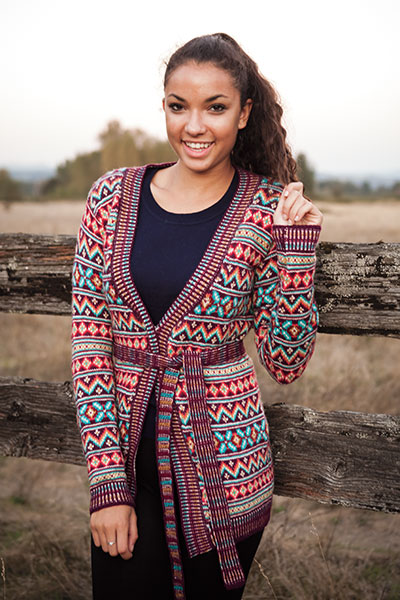 Mull of Kintyre by Anna Davis
The last design featured on this model is
Mull of Kintyre
. I like that, as in the Flower Medley Hoodie, the density of the patterning makes the Fair Isle read as less horizontal. And, if you've visited here before, you know I looooove a deep v-neck cardigan. It's the most universally flattering sweater. Unfortunately, I am concerned that there are some fit issues here. Typically I would expect that a belted sweater would cross over, rather than just meet in the middle. Is the sample too small for the model? This is an pattern where you would need to closely examine the schematics to understand how the fit should be for your size. There's also wonkyness on the right side. The shoulder is pulled over and it's stretched over her breast. Are there hidden safety pins pulling it together? Again, tread carefully and understand the schematic before you commit to the knitting.
So, at the end here I am supposed to decide which design is most flattering. I do like the Flower Medley Hoodie, but it harder to wear for a fuller figure. So, I am choosing Beatitude. Just be sure to modify the pattern for your figure type.