I woke up on New Year's Day and realized that it was the first day in months in which I did not have a looming knitting or crochet deadline. Nothing with a pending due date for a book or magazine. So to celebrate, I cast on an afghan. (More on that at a later date.) In the spirit of the season, here's a review of my published designs which appeared in 2014, including my very first published crochet designs:
Arroyo Seco Top from
Interweave Crochet Summer 2013
Picture Perfect Plaid from
60 Quick Baby Blankets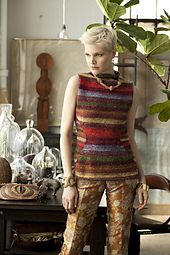 Houglass Top from
Noro Magazine Spring 2013
Windsong for
Classic Elite #9222
Knothole Mitts from
Interweave Crochet,
Accessories 2014
Multidirectional Skirt from
Noro Magazine, Fall 2013
And, I will also include this design, for although the magazine did not hit my mailbox until January 2, 2014, it was released in the e-mag version in December:
Vogue Knitting, Winter 2013/2014
I have been very, very busy knitting and crocheting this fall, so look for more designs in the spring releases of magazines, as well as some up-coming books!