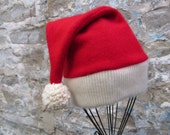 I've had a little break from posting while I got my seasonal Etsy shop,
La Bella Capra
, up and running.
A friend and I have a shop offering items which we have been up-cycled from cashmere and wool sweaters. This year we added wool plaid items to the mix. Can you tell I'm a little bit plaid obsessed?
I'll be back with some reviews, since the new issue of Knitter's hit my mailbox and the new issue of Twist Collective hit my electronic in-box.