Drop shoulder Aran Sweater from J Jill
Fall is the season to break out our sweaters, often with a new look at traditional patterns and styles: Fair Isle, Sheltland, Icelandic, Aran. It's this heavily cabled and textured latter type that is an especially tricky style for knitters who want to flatter their figures. Cables are created through crossing stitches over stitches, resulting in a double thickness of fabric. Add that the cables are almost always highlighted with a purl background and filled in with other highly textured patterns, such as seed stitch, and the result is a dense, often stiff fabric.
The shape of traditional Aran sweaters, usually boxy with dropped shoulders, in combination with the stiffness of the fabric, results in all loss of the body underneath, and the torso is large and boxy with an excess of fabric under the arms. Not a slimming or flattering look.
Talbots sweater
As an aside, I personally detest bobbles on garments. I think they look like warty growths, which I suppose would be in the Halloween spirit, but not an everyday look I would want to sport. I find this Talbots sweater to be especially frightful.
How do you make an Aran sweater wearable for a fuller figure? Remove all stiffness from the fabric. Choose a yarn with drape and work in on larger needles to open up the fabric. You also want to move away from the traditional shape: drop shoulder, crew neck, no side shaping and oversize. Make it a cardigan (also pretty traditional) and you've introduced a flattering horizontal line. Bring the fit close to the body, and add some shaping through the torso. Convert the drop shoulder to a fitted sleeve and eliminate the bulk under the arm. And, if you are willing to stray a little from the traditional, add a v-neck, which is a universal flatterer.
What do you get when you make those changes? A great expample is the
Grandpa Cardigan by Joji Locatelli
. She models it here in purple, but it would look so traditional in pure sheep's wool cream color.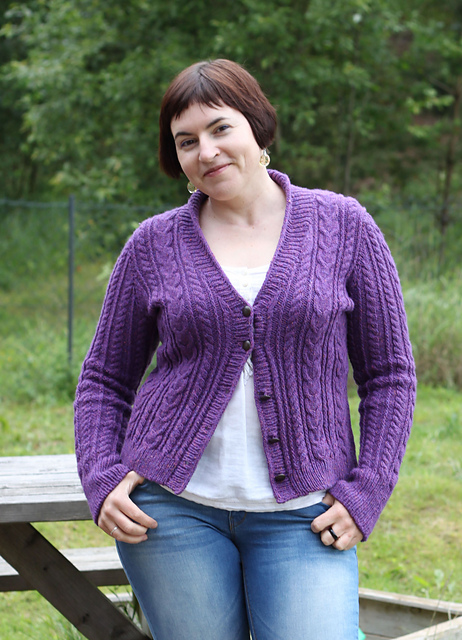 Grandpa Cardigan knit by Vaida
Just to prove it, I've also shown it here on a lovely knitter, Vaida, who is not as skinny as Joji. What works for larger-sized knitters is that cables create a natural strong vertical design. Combine that with the vertical line created by the cardigan's front break, and you've got a slimming sweater.